Grow your business with GrandNode
GrandNode is the most advanced and the best open-source e-commerce platform out there, built on the newest version of .NET Core and MongoDB. It's the most advanced ASP.NET e-commerce available to get for free. The highest quality of code, combined with a detailed testing approach and a huge number of features are a recipe for success. There is no more need to create a store with an enormous number of third party plugins. Rely on the widest range of implemented functionalities at the market.
Product
Catalog
GrandNode has brought freshness to the e-commerce market. You are no longer limited to typical and simple product types. Without the need to use any third-party plugins or extensions, you have access to a couple of product types – standard Simple and Grouped products, but also Auction products, which allow you to create limited-time auctions and Reservation products, which allow you to put apartments for rent. You can also offer multiple products at once with the Bundle product type.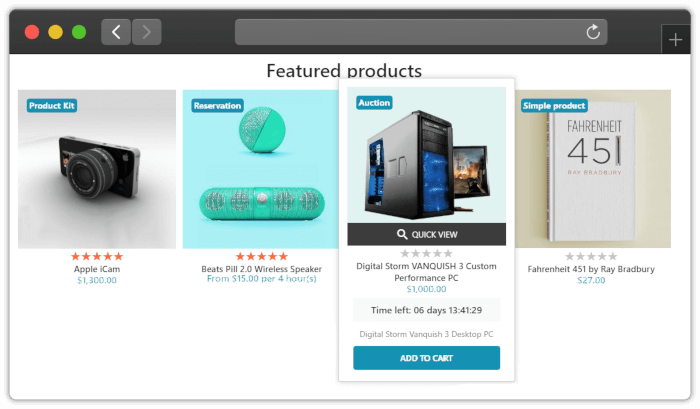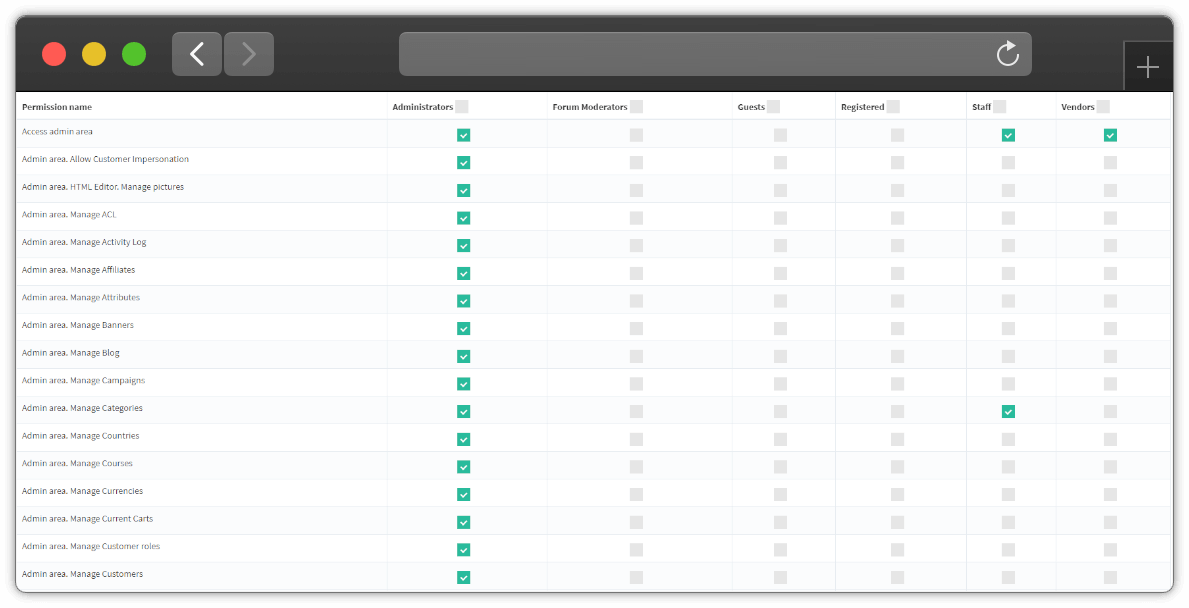 Permissions
Management
Customizing your store has never been so easy. Permission management allows you to divide your customers into different groups. Each group is called a Customer role. In a nutshell, in GrandNode, you are able to give different permissions to each role. It's a perfect way to hide prices for guest users or limit the offer to certain groups of customers. It can be easily combined with Marketing Automation features of GrandNode.
CMS 
Features
Modern e-commerce platform is not only an online store. GrandNode e-commerce features have been improved by content management system features. It's no longer an online store. You will be able to extend the functionality of your store and bring the FAQ, glossary, blog, news section to your store. Furthermore, GrandNode has the possibility to create a e-learning platform out of the box. Attach courses and lessons to independent products and offer them as a paid content.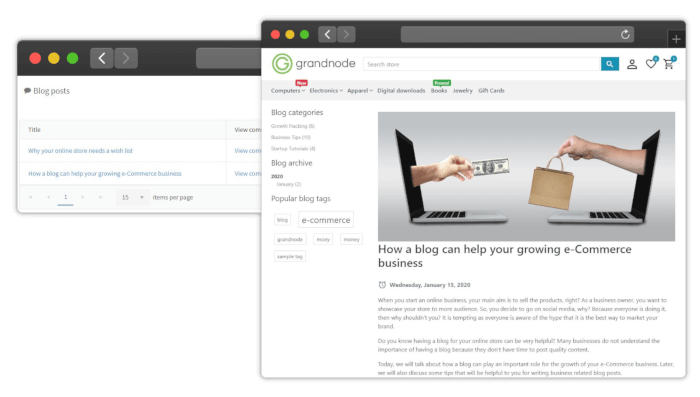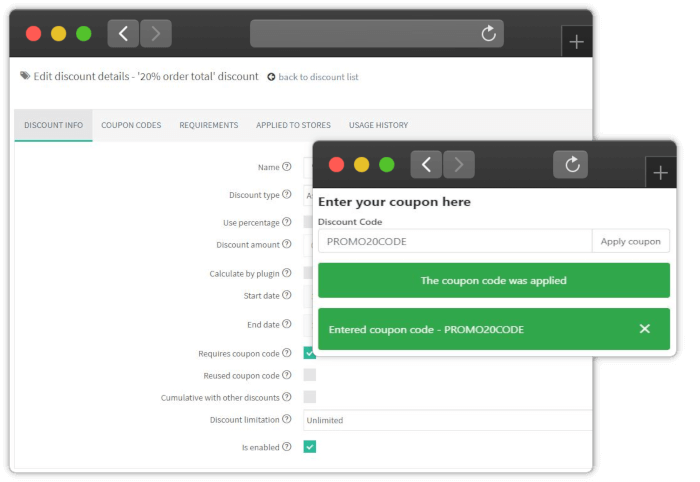 Discount
System
Advanced discount management is a requirement of every bigger e-commerce. GrandNode allows you to create many different types of discounts. Assign a discount to the store, product or order totals. What is more, discounts can be calculated by a plugin, or can be limited by plugins with predefined requirements. It's not a problem to create limited time discounts or a discount with single usage.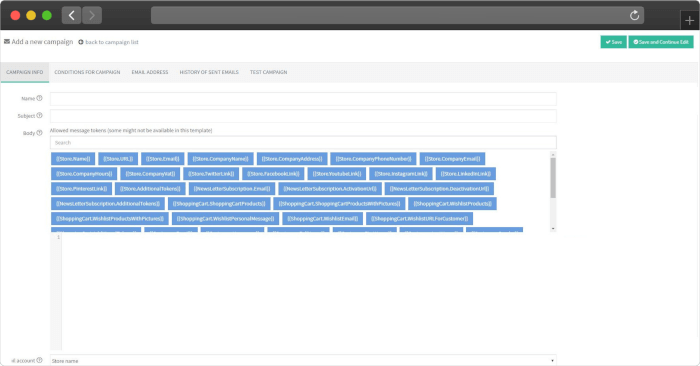 Mailing
Campaigns
Create campaigns for all of your customers! Choose specific receivers according to predefined conditions. It is the first condition-based e-mail campaign feature found in e-commerce platforms. Create well-designed e-mail templates with TinyMCE editor and DotLiquid templating. Create content based on "if" statements and "for" loops in the content of the message.
Advanced
Integrations
To meet even the requirements of our most demanding clients, we have prepared an extended marketplace of integrations, which are ready to use. Only a few mouse clicks are required to integrate your store with Amazon, eBay or to be able to offer an unlimited amount of payment methods. Browse through our plugins marketplace and change the design of your store with premium GrandNode themes.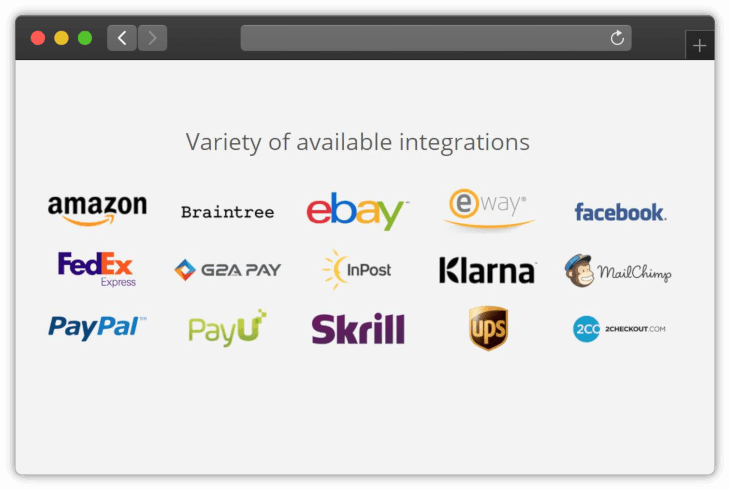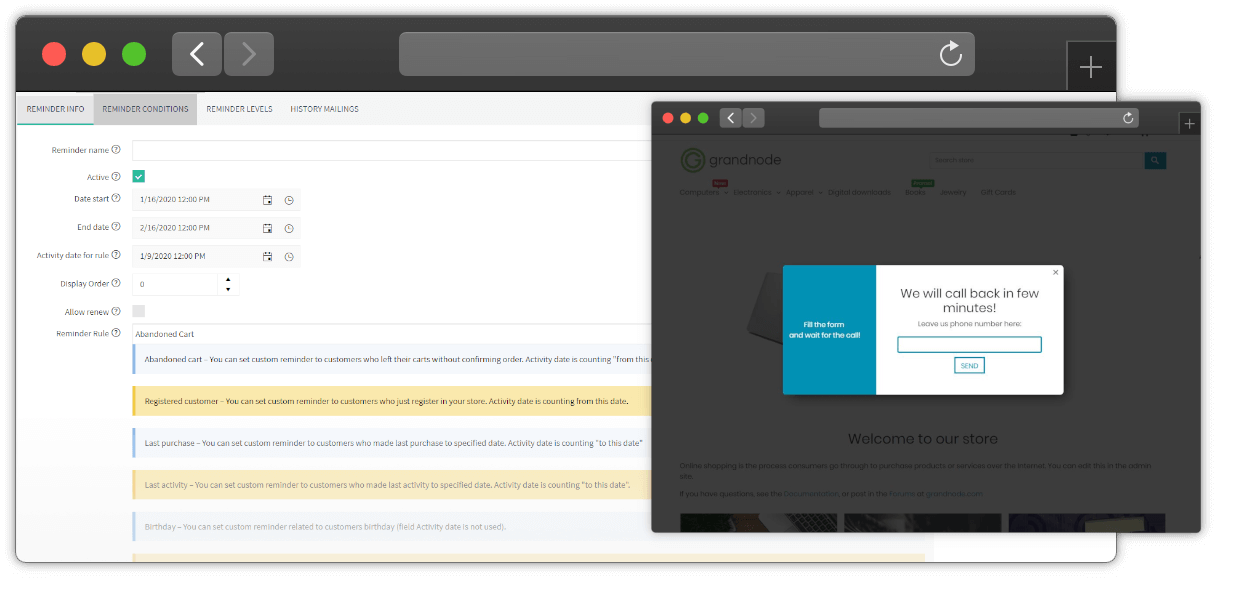 Push
Notifications
Firebase push notifications can boost the marketing ability of any e-commerce. Create a Firebase application on your Google Developers account and paste the credentials to a suitable configuration page. With just a few clicks you will be able to implement a fully working push notifications system.
B2B
Features
B2B platforms always require additional customization or personalization. GrandNode stands out of the crowd and with just a few standard functionalities, it can be a fully working and personalized B2B system. Documents will give you the opportunity to attach custom invoices, sales docs or purchase orders directly to the products, customers, or manufacturers. Each document can specify an amount of money, which needs to be paid, so you can easily use it for b2b installments.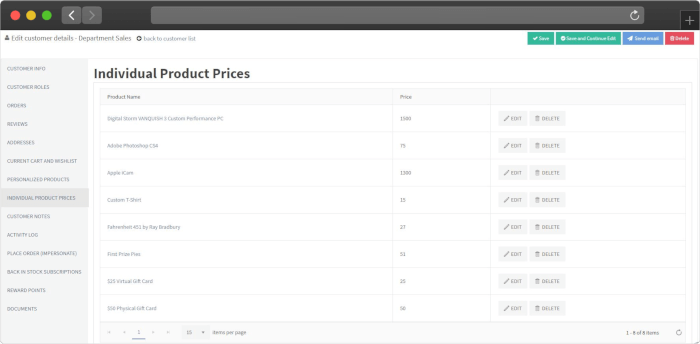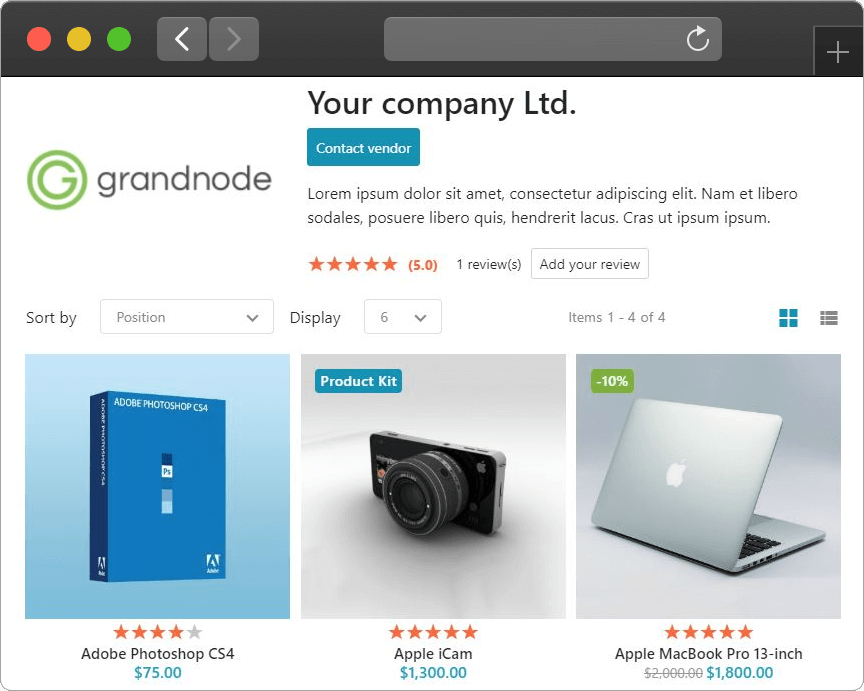 Multi
Vendor
Multi-vendor or multi-seller, you can name it as you want! Create a new, powerful Aliexpress or Wish marketplace! Sell products coming from your sellers/vendors. Give your customers the possibility to apply for a seller account. Each vendor can be independently reviewed, as your customers can easily leave feedback about your sellers.
Multi 
Tenant
Staff users are the store managers. Each store can be managed independently, even if it's a single GrandNode installation. Combine it with Advanced Multi-tenant plugin and create automatic multi-tenant business with the "apply for a store manager account" form.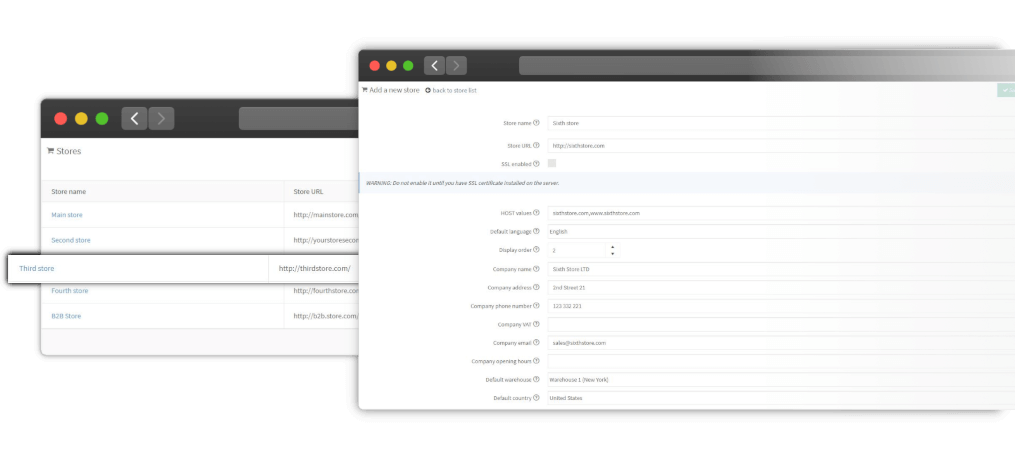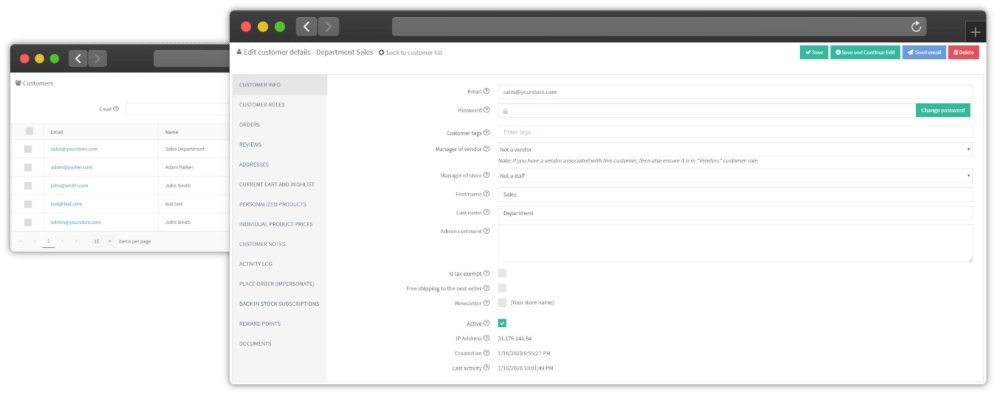 Customers
Management
Customers management is one of the most crucial parts of each store. Assign customers to different customer groups, customize the "required address" or "customer" fields. Place orders for your customers with the impersonate sessions. Personalize offers for your customers with "Personalized Products" and "Individual Product Prices"
Want to learn more about GrandNode?
Get a document with an extended list of GrandNode features
back to top