GDPR has shooked the world of the e-commerce. A few days before May 25, people began to go crazy about changes in personal data protection law. Despite the long time to implement the fixes. Basically, the GDPR is General Data Protection Regulation, adopted in April, 2016. So people have a long time to implement GDPR features in their online stores. To meet the expectations of our users, we've decided to implement new features, which will solve the problems with GDPR compliance, totally for free in the newest version of GrandNode. If you are a store owner and use GrandNode, you will have possibility to upgrade your store to the newest version, without fear, that your store won't meet the requirements of the new law. 
Basics
GDPR is based on transparency. If you have an online store, it's important to clarify, what you will collect and use. It's obvious that you should inform your customer what you will demand from him and what you will use in the future. If you don't want to use some personal data, just don't demand it. The new law requires that you have to clarify the goals of your action. If you want to personalize your offer to them, you need to describe this process in the policy privacy. 
Exporting personal data
In the newest version of GrandNode - your customers will have possibility to export their personal data that you collect. They will be able to do that with the "Export button" which will appear in the top-right bottom of the My account page. It will be managed by marking the checkbox called "Allow users to export account". 

After pressing the "Export data" button, your customer will receive the XLS with all of their data stored in your store.
Deleting accounts
The next requirement is to allow your customers to delete their accounts. It will be possible also in My account section. If you enable this setting in Customers settings, in My account sidebar will appear new section called "Delete account". 
Below you can find the screen, how it will look in the My account section.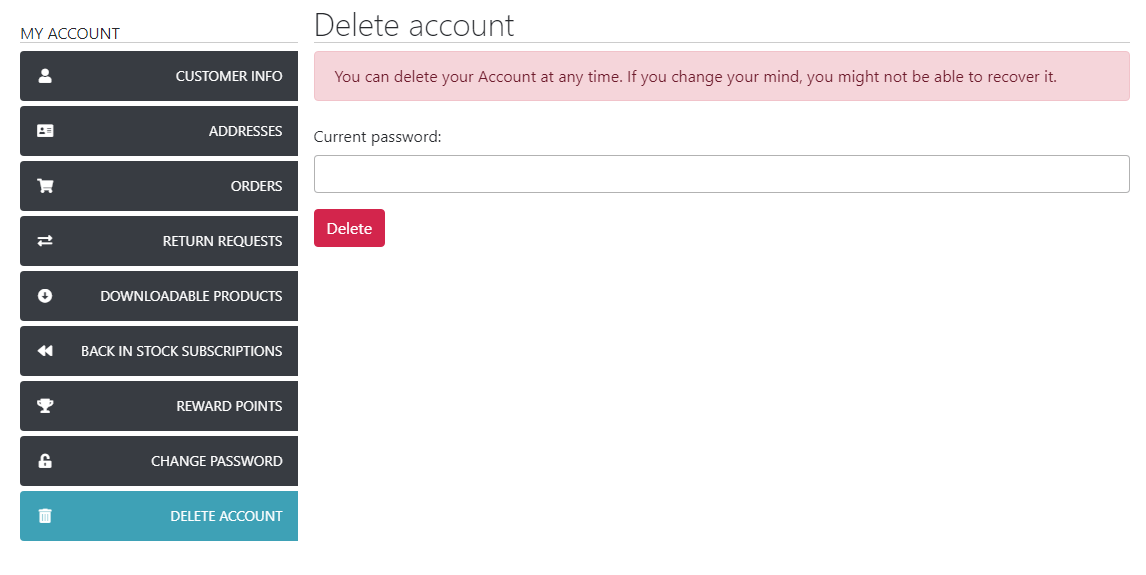 Consents related with marketing and personalization
Newsletter is one of the out of the box features in GrandNode. If your customer want to subscribe to it, he need to fill only e-mail field. If you want to collect e-mail addresses, you need to modify this form a little. You need to implement a checkbox with clear confirmation that customer agree to leave e-mail address. You can do it with "Newsletter categories" feature. Just go to Admin panel -> Promotions -> Newsletter Categories. Create new one and describe it as you wish. It's easy. Now, if you customer will fill e-mail field and click subscribe, will see the checkbox to check. 

Example described above is also connected with contact forms. You should inform your customer, that you will collect the address e-mail and use it to provide customer service. It can be easy achieved with GrandNode new feature - Contact Form attributes. 
You can add specified consent as checkbox button to your contact form. Go to Admin panel -> Catalog -> Attributes -> Contact form attributes.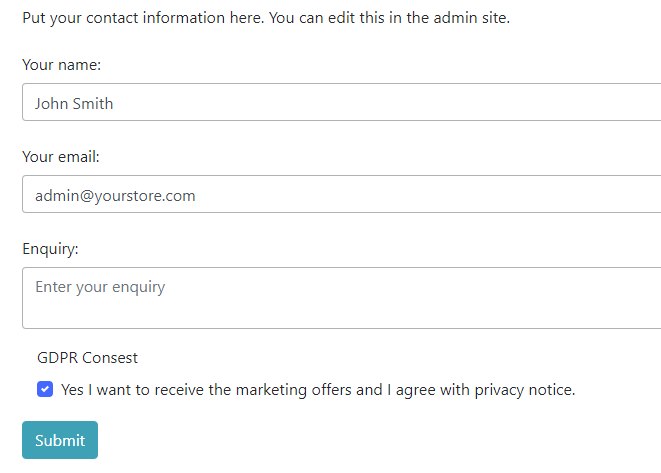 The last useful features in GrandNode that can help you to adapt your store to GDPR requirements is checkout and customer form attributes. It works in the same way as Contact form attributes. You need to create specified consent as a checkbox attribute, to show it during registration or purchasing.