Make an examination of conscience
See where you stand. First step is to think about your current position. You need to list all things that you did before to improve your SEO. It's important to list of all them, because it will be a shame to overwrite previous work. Time is finally more important than money. 
Check the Meta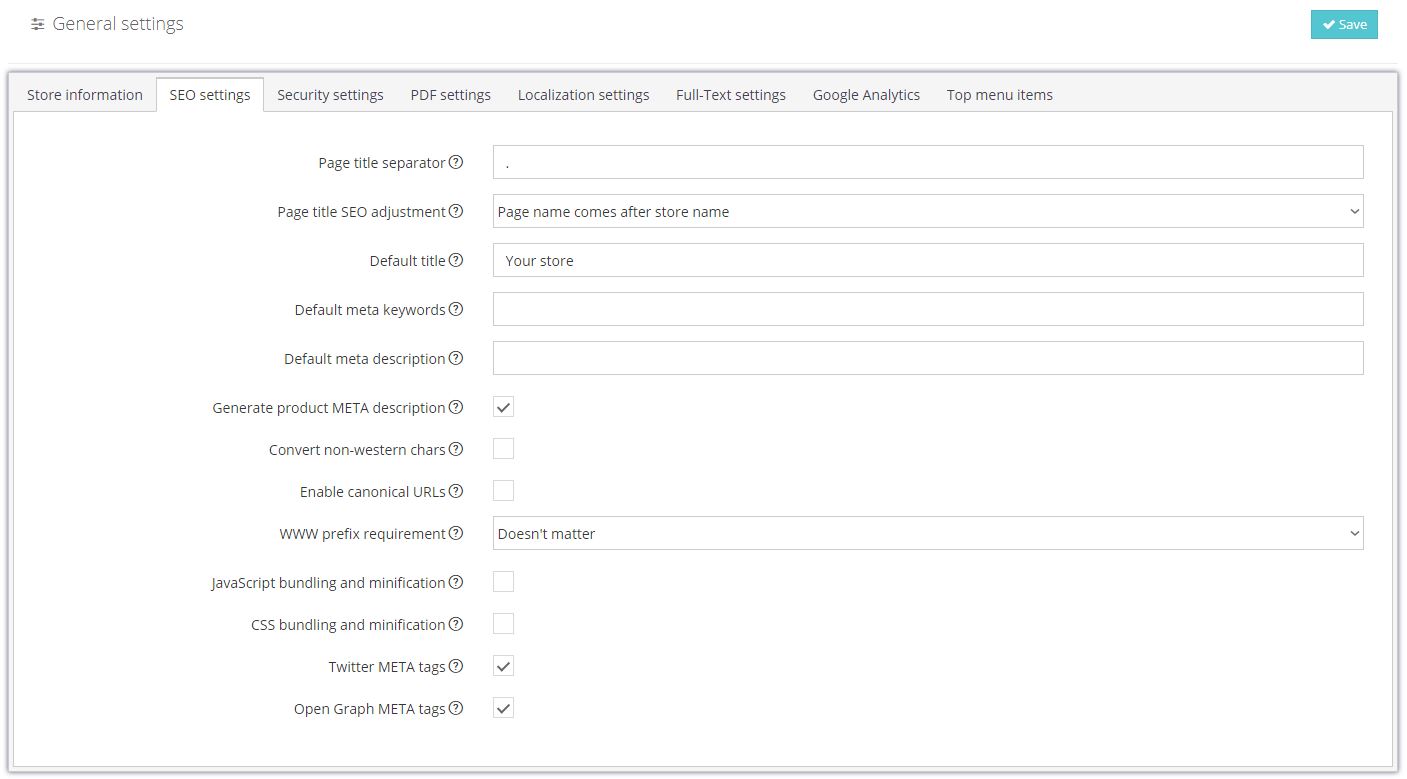 It's one of the most important actions which you should do after store creation. You will find that settings in Admin panel -> Configuration -> Settings -> General Settings -> SEO Settings tab, as it's presented on the screen above.
Default values will be used when you forget about filling the SEO properties on product, manufacturer, category pages or blog post, etc. 
What's next? Check all of your products, categories, manufacturers, blog posts, news, knowledgebase categories, articles. If you find somewhere missing SEO fields, just fill them! It's important for your store, so you need to create a individual meta settings for each product. 
Think about the keywords
A keyword, in the context of search engine optimization, is a particular word or phrase describing the content of a store. Keywords act as shortcuts to sum up the content of a product page, category page or blog post in your store. Keywords are part of a stores metadata that helps search engines match a online store to an appropriate search query. 
Must have practices:
- Keywords should be included in title
- Keywords should be included in meta description
To find great keywords, you can use many available tools. For example, below you will find very interesting, free tool:
https://neilpatel.com/ubersuggest/
Tame the Sitemap.xml and Robots.txt
In GrandNode, sitemap.xml file is generated automatically if you don't disable it. To avoid errors settings related with sitemap are hidden. You won't find them in Settings tab listed as the rest of settings. Please note and be aware that changing hidden settings by novice users may result in errors in the operation of the store.
To find them, we need to go to Admin panel -> Configuration -> Settings -> All settings (advanced). You will see a list of the all settings which exist in the store. We need to find settings related with sitemap. We can do it easily with searching for "sitemap". You should get following list of settings: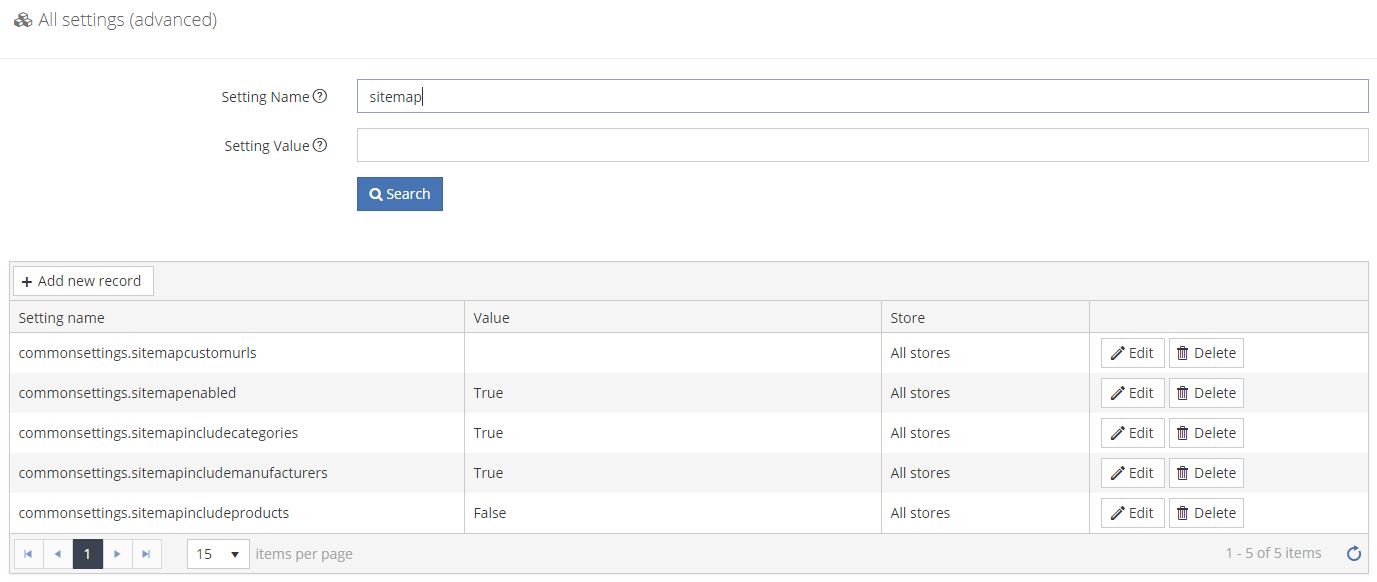 Sitemap custom URLs - if you want to add urls to sitemap use this settings, enter them with comma as separator.
Sitemap enabled - True/False. This setting indicate whether if sitemap should be enabled in your store or not.
Sitemap include categories - True/False. This setting indicate whether if URLs to categories should be included in sitemap or not.
Sitemap include manufacturers - True/False. This setting indicate whether if URLs to manufacturers should be included in sitemap or not.
Sitemap Include products - True/False. This setting indicate whether if URLs to products should be included in sitemap or not.
A XML sitemap acts as a roadmap of your website. Further more, it's a roadmap of your website which leads Google to all your important pages in your store. If your internal linking isn't perfect, correctly generated XML sitemaps can be good for SEO, as they allow Google to quickly find important website pages. 
What's more. You can specify if specified topic should be included in sitemap. During the topic creation, just mark the "Include in sitemap" checkbox. 

Robots.txt file can be found on FTP server in the main directory of GrandNode. 
Lack of knowledge about what robots.txt is and misuse of it may have a negative impact on the ranking of your website. The robots.txt file controls the way crawlers perceive your site. This file is listed in several guidelines provided by Google itself. This file and the crawlers are the basic elements that affect the operation of all search engines. This reasons mean that you need to study how to properly use the robots.txt file. 
If you want to check your robots.txt file, you can use the tool provided by Google:
https://support.google.com/webmasters/answer/6062598?hl=pl&ref_topic=6061961
Make speed optimizations
Search engines are built for users, not for you as the owner of the store. The more give of yourself to the user, the better reward you will get from, for example, Google. One of the criteria by which your shop is evaluated, is the display speed.
As you know, day is too short to do everything that you planned. Respect the time of your customers, give them the opportunity to make purchases as soon as possible.
Very interesting tool, with which you can control the display speed of the page is:
https://developers.google.com/speed/pagespeed/insights/
You may also use some other tools:
What's important! All of them will show you how can you fix issues in your store. If your store will load slowly, for sure you will find useful tips how to fix it.
Use Analytics

GrandNode out of the box has two different integrations with Google Analytics. It's important feature for each online store. First integration is used to show the most important data in dashboards of your store. 
Second integration is used to collect stats in your store. To configure it, just go to Admin panel -> Configuration -> Widgets -> Google Analytics or Universal Analytics -> Configure and enter the ID in the proper field. 
Content is the king
In recent world it's hard to sell products that was never selling before. The only way to distinguish itself is the creation of unique and interesting descriptions of products. You do not think of yourself as a humanist? Are you afraid that your descriptions do not guarantee you enough sales? It is worth to invest in a copywriter to write such texts, which you would want to read.
You don't have a company blog yet? It's best time to change that. Share with people the latest information from the industry, post reviews of yours products, share with people tutorials on how to properly use your products.
For example you have online store with spices, maybe great idea to gain new customers is to write blog of recipes.
Connect GrandNode with social media
Nowadays, according to anonymous statistics people spend 28% of their time on Social Media. It is very important to engage with your customers. Probably all of them have questions about your offer. People love talking about products they have used. Remember, the customers don't need a seller, they care about advisor who will listen and understand their needs.
Also great idea to promote your products is give your customers possibility to share your products on social media.
The best way to start products promotion is direct promotion of your products, services. Is the simplest way to engage your potential customer in conversation with you.