List of content
High personalization

Voice search will take lead

Chatbots on duty

ROPO effect and renaissance of physical stores

Continuous increase in the use of mobile apps

Content marketing

One-Click Purchases

Automation
End of the year is a time for predictions, new goals, provisions. As authors of the first cross-platform e-commerce based on ASP.NET Core and MongoDB we would like to share with you a bunch of predictions. 
Predictions presented below are just my private thoughts, let's talk if you agree or not with them!
High personalization
According to Accenture, nearly 40% of shoppers have left a store to buy from another site because they were overwhelmed with too many options. Even if they don't leave, almost 75% of your potential customers will be frustrated with irrelevant content or products that are not specific to them. If you see a similar problem in your store, it's time to start being interested in personalizing the offer. You can achieve it with recommended products for customer roles, suggested products for product tags, personalized products per customers. All this actions can be done using marketing automation features available out of the box in GrandNode.
Personalization it's not only offering the specified and targeted products on your store. It can be for example custom packaging! As statistics show customers are more likely to return to stores that offer personalized packages.
How can you start the personalization? Start from the beginning and try to segment your customers. For example, below you can find the example of tagging customers coming from Facebook.
https://grandnode.com/weekly-tips-distinguish-users-from-facebook
Voice search will take lead
The extensive use of of smartphones to search or a buy goods has to led to the development of a popular trend, which is voice search. E-commerce stores should offer the voice search for many reasons. Buyers are lazy, the next generation with pure convenience will use voice search instead of writing. Is this bad and we should fight with it? Of course not, we are not able to change it, so we should adjust and prepare our e-commerce systems for these people, because they will provide for our sales in the near future.
"Voice searches will be 50% of all searches by 2020. 22% of people owning devices like Amazon Echo and Google Home have purchased something through voice search."
Source: Metrilo.com
Chatbots on duty
It's a trend which appeared in 2018, but I'm convinced that popularity of chatbots will grow in the incoming year. For the biggest companies and their CEOs, Facebook Messenger was like a fantasy. Companies used them, of course, but mostly they were used to provide a simple support or to provide information that nobody will answer for their questions. It wasn't fair!
Customer expects answer immediately. That's why he chose Facebook Messenger instead of e-mail or phone.
Great example of chatbot – Sephora. Sephora has to bots. First is an appointment booking to reserve a makeup at sephora stores. Second one is a shade matching bot.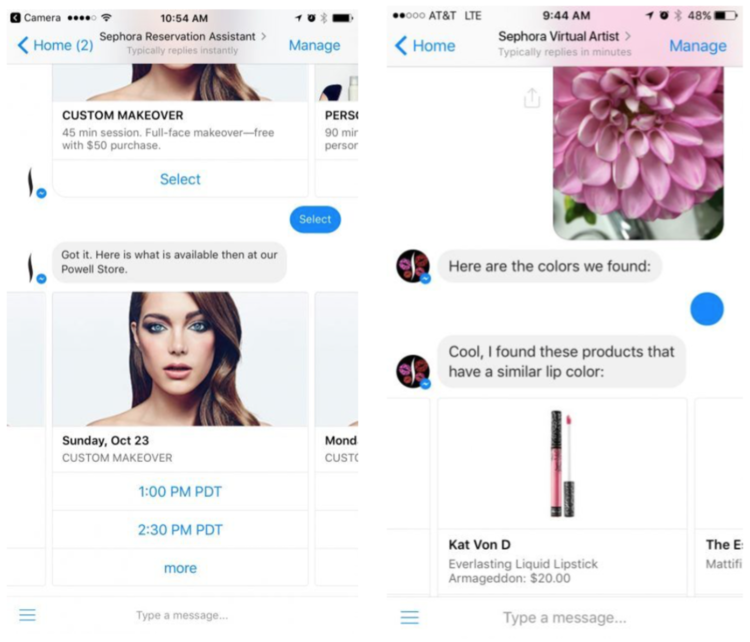 Source: https://chatbotsguide.org
Another great example of Facebook Messenger chatbot – LEGO.
It's used to help you when you have problems with choosing the right gift for your kids! Ralph – Lego assitant, will ask you for the most important things – kid preferences, your preferences, kid age and your budget. And ta-da! The most matching LEGO sets will appear on your screen. Now just click buy now and you get to the store with the product added to the cart. And everything almost without leaving the Facebook messenger.
What's important? Customer still have contact with you. You can use this touch – point any time, to remind about products, to offer your new products. It's simple and the efforts which you put in chatbot creation will results in higher sales, for sure!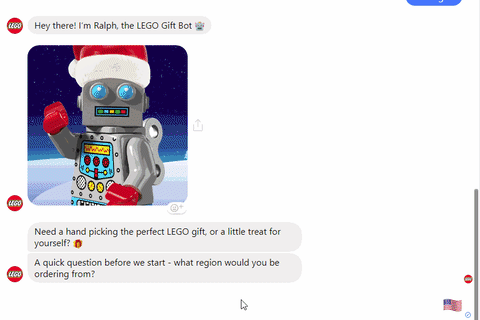 What's more, chatbots can be used in the combination with AR, so you can offer your products and visualise them in Facebook Messenger using the Augmented Reality. So the chatbots usage doesn't have to limit only to support service.
ROPO effect and renaissance of physical stores
Research Online Purchase Offline, it's one of the newest trends in e-commerce. It describes the process where the buyer first does their research about a product online before finally making a purchase in physical store.
There is also a reverse ROPO effect. It means that customer does reserche offline, then he go back to home and purchase the products online.   
Use Augmented Reality to Decrease Risk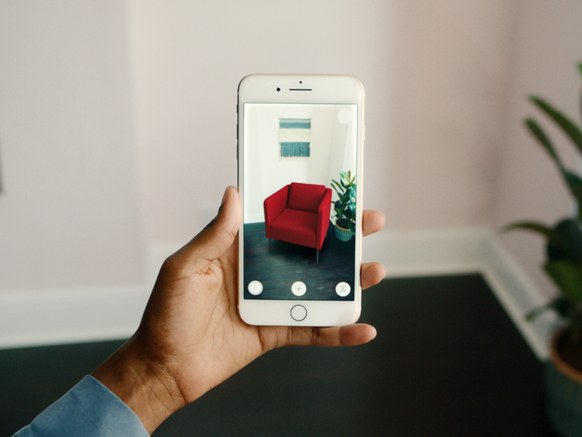 Source: wired.com
Customers before purchase want to physically go the store to get a sense of the i.e size, with audgement reality, they can easily visualize how their new furniture will fit in their space. On the screen above you can see the Ikea place app, which is a perfect example of AR usage in e-commerce. And also as an example of a tool to fight against ROPO.
Continuous increase in the usage of mobile apps
Usage of mobile apps is still growing. Number of mobile apps is higher each month. Same as e-commerce mobile apps. As we notice, the interest in our iOS/Android Mobile App is growing, customers are asking about it, about available features and possibilities.
I'm pretty sure that this grow won't stop.
More details about mobile apps can be found here:
https://grandnode.com/multi-platform-mobile-app-to-grandnode
Content marketing
Let's start from the beginning.
"Content marketing is a strategic marketing approach focused on creating and distributing valuable, relevant, and consistent content to attract and retain a clearly-defined audience — and, ultimately, to drive profitable customer action."
Joe Pulizzi, Founder, Content Marketing Institute


Source: Google Trends graph for Content marketing popularity, December 2018.
Popularity is still growing. In e-commerce content marketing still is one of the most effective way of promote.
What is important, content marketing is not only a blog. Even if many people connect content marketing with blog, but It's nothing weird, because it's the easiest and the most popular way to start the content marketing journey.
Content marketing is also:
- reports,
- e-books,
- videos,
- webinars,
- infographics,
- podcasts,
- FAQs,
- and many more!
If you don't have anything from the list above, it's great moment to change it!
One-Click Purchases
It's popular now, many store owners have it implemented in their online stores, but it's not a standard. Please tell my why? It's simple feature, just add new button on the product page – "One – Click Purchase", popup a one page checkout and that's all!
"1-Click, also called one-click or one-click buying, is the technique of allowing customers to make purchases with the payment information needed to complete the purchase having been entered by the user previously. Instead of manually inputting billing and shipping information for a purchase, a user can use one-click buying to use a predefined address and credit card number to purchase one or more items."
Source: Wikipedia
Amazon has offered one-click ordering since 1997 and it was a game changer for them!
Automation
We are not a robots. We are not able to handle each part of business. We know that contact with customer is important. We fight for feedback, his interest, but when we fight for it, rest of store may suffer. And it's normal. You are no able to do everything. Here comes the Automation! One of the simplest way to improve your results is to implement the marketing automation elements.
Automate your the most repeatable actions like feedback requests, notifications about unpaid orders, abandoned carts. You are not able to manage all of that actions.
We described more this process in our blog posts here:
https://grandnode.com/machine-learning-in-grandnode-cross-platform-e-commerce
https://grandnode.com/weekly-tips-1-how-to-set-birthday-reminder