As the digital economy expands and touches more business activities, every e-commerce should adapt to the newer standards. As e-commerce platform developers, we are obliged to deliver a versatile, scalable, and secure platform to fully support your digital activities.

The newest article will bring you a set of things that can be used in your store to fully adapt to the changing world. If introduced correctly, they will bring you significant benefits.
List of content
Use the web validators
Web Core Vitals are to be of great importance in the context of the future position of your store. You need to be sure that your store passes the majority of the most important tools like:
https://developers.google.com/speed/pagespeed/insights
https://chrome.google.com/webstore/detail/axe-web-accessibility-tes/lhdoppojpmngadmnindnejefpokejbdd
In May 2020 Google made an announcement. Google is going to change algorithms that are used in their search engine and evaluate existing sites on three additional metrics: loading, interactivity and visual stability. These metrics called Core Web Vitals will take action in May 2021. The three pillars of Core Web Vitals on which you should focus:
- loading (LCP), 
- interactivity (FID),
- visual stability (CLS).
If you are not familiar with Google Page Speed Insights and in general with these metrics, you should definitely start thinking about it, if you don't want to be overtaken. Let's generate your first report and check how your store ranks among the competition.
Provide intuitive navigation 
You may or may not be aware of it, but when creating an online store you assume a certain shopping path. Usually it's a 5 step journey:
1. Homepage
2. Catalog page
3. Product page
4. Further digging on product - description, reviews.
5. Checkout
However, there is a lot of navigation elements that you should follow. We should also look at:
- filters,
- sorting options,
- main menu design.
During thinking about the user interfaces/user experience and providing intuitive navigation you need to remember about several factors:
- Consistency - it should meet users expectations and follow a specified pattern, repeated on the further pages,
- Simplicity - it should be simple to avoid misunderstandings and confusions,
- Clean interaction - it should follow your user's path and show clear paths
In the context of navigation consistency, we can distinguish the location of the menu, on smartphones it will be the bottom of the device, on tablets it will be a sidebar menu, the location of elements related to the purchasing experience.
The simplicity may be related to Hick's law or the Hick Hyman Law. Hick and Hyman were psychologists. Law describes the time it takes for a person to make a decision as a result of the possible choices: increasing the number of choices will increase the decision time logarithmically. The Hick–Hyman law assesses cognitive information capacity in choice reaction experiments. The amount of time taken to process a certain amount of bits in the Hick–Hyman law is known as the rate of gain of information. (Source)
Clean interaction means a physical interaction with users. You should go into customers' heads and try to explore your store in the same way they do. Take into consideration that you know the store, products, catalog structure, but if any of the elements causes you to think even for a moment, it will mean that the interface should be improved.
Expert tip: Don't forget about the devices - especially mobile devices. You should consider the area of the interaction. Avoid placing buttons, forms in the area that can't be easily reached by a single finger. 
Use breadcrumbs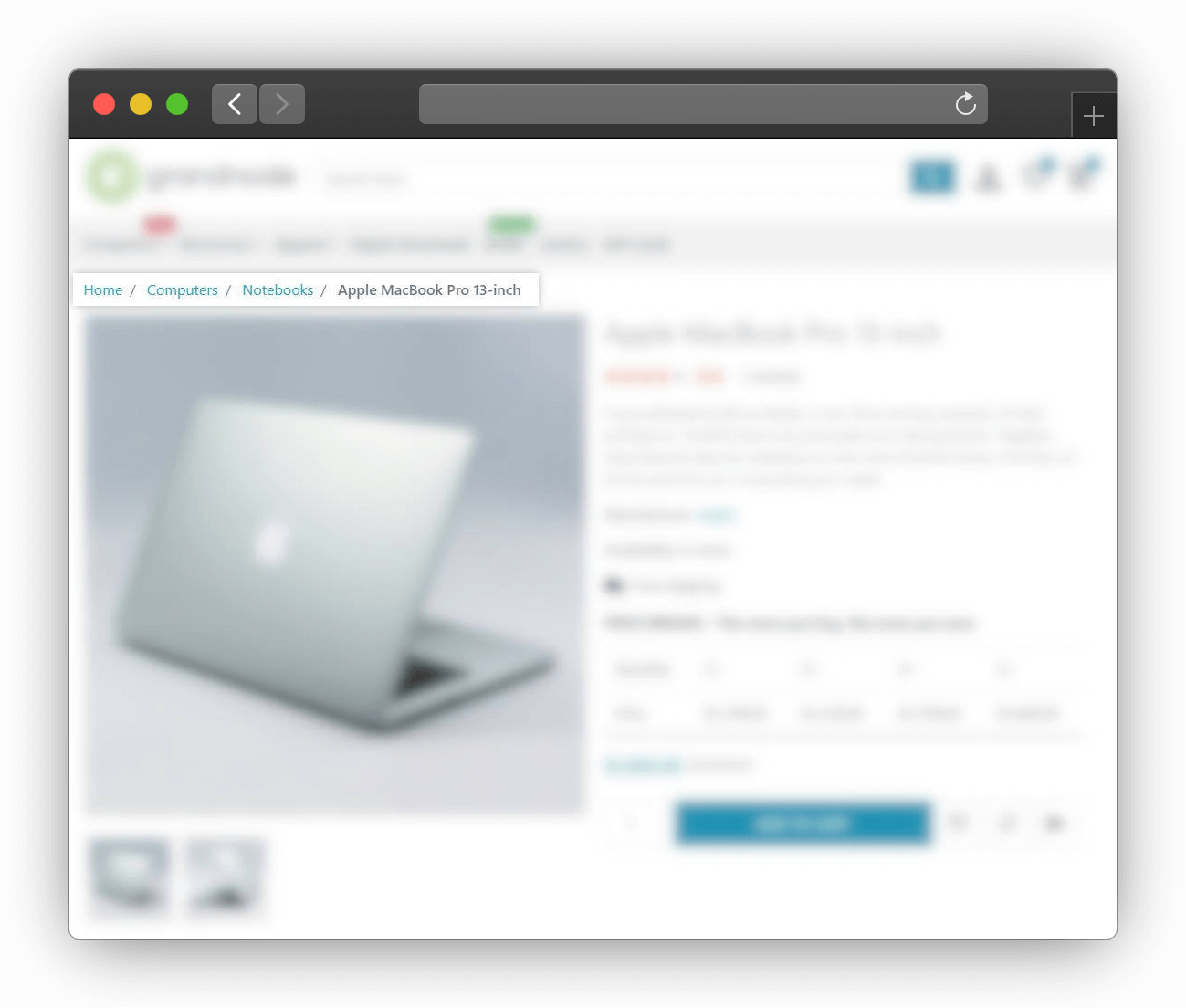 As deeper as your customers go into your store, they will need a clear way back. To facilitate the navigation process while already deep in the store, you need to have the correct breadcrumbs and search.
Breadcrumbs, in the other words - a navigation chain, are a perfect way to improve the usability and accessibility of your store. You need to know that breadcrumbs will empower also your visibility in search engines. Google uses it instead of URL on mobile results, of course, if introduced correctly. Furthermore, breadcrumbs will improve your site-mapping. They allow fully understand the store structure. 
Check the purchase process
Jump into the customer's shoes. Test your whole purchase process, you should be able to browse your catalog, add products to the shopping cart, complete the checkout process. Check also all touchpoints with your customer. Each contact form should work.   
Integrations
Automate as much work as you can. If you use external marketplaces like eBay, Amazon there is no better way to improve your sales than integrating your stores with that channels of sale.
Process automation and having a consistent offer are the challenges of today's e-commerce. If you want to create a store of the future, you definitely need to bet on integration. All companies have ERP and CRM systems, larger ones have PIM, WMS systems, marketing tools. 
How does it work? Basically, imagine a situation that you have a multi-channel e-business. The same product appears on eBay, Amazon, and in your store. Furthermore, you have only 2 items of it, before next month delivery. A customer purchase 2 items on eBay, without integration you would need to remember to reduce the stock quantity on Amazon and in your store. It's easy with 10 products, but the problem is when you have to keep consist catalog of 100,000 products. In this case, our integration between GrandNode and eBay, or two-way integration between Amazon and GrandNode comes in handy. When sold on one platform, inventory will be updated on the other.
Abandoned carts reminder 
If we look at the combined e-commerce sales of $738 billion in the US and EU, the potential for a 35.26% increase in the conversion rate translates to $260 billion worth of lost orders that are recoverable solely through better checkout optimization and developing abandoned carts reminders.  
During your store audit, you should definitely look at our video tutorial – Abandoned Cart reminder in GrandNode. You can check it on our YouTube channel.
Reminders are a part of GrandNode's built-in features. You can use them to create a different kind of customer messages. For example, mentioned abandoned cart reminder, furthermore, it can be a set of automated emails sent after registration, completed order. There is only one limit - your imagination! If you want to read more about Customer Reminder, you should look at our short article about customer reminders. 
SEO Checklist
SEO is one of the most important parts of your store. Even if your product is a gamechanger, without proper SEO you won't be able to as much as you want. Your store must meet all SEO requirements that will allow you to achieve the highest positions in search results. 
 
The search engine optimization process is technically difficult. Specialists who deal with it professionally and no one is likely to be skilled as them only by playing with it after hours. But keep your head up. There are tons of factors that you can eliminate by yourself to improve your position almost immediately. Below you will find a short checklist with things that you can implement immediately and that will bring benefits right after implementation, even though the website optimization process itself takes several weeks. Such action can be a good injection of visits for your store, but also a good start to rethink further SEO. 
 
GrandNode allows you to make the majority of the most important things in the admin panel. Therefore, in most cases you will not need to have technical knowledge. 
a. Meta-tags
Meta tags are small snippets visible in the browser. They are essential for you, your customers, and for the search engines. They contain the most important information about your store and its content.  
 
Meta-title and meta-description are visible in the Google search results and you have to be sure that they are configured properly.  
 
In GrandNode meta tags can be edited directly on several pages -  product, category, manufacturer, blog post. To check the meta-tags configuration, navigate to the SEO tab.  
Expert tip: Meta title =/= Product name/Blog title. Please note that the meta title does not always have to be 1 to 1 identical to the product name or blog title. Meta-title should contain the keyword at the beginning, where the title visible on the store may be arranged differently.  
 
In the Admin panel -> Configuration -> Settings -> General settings you can define your main meta tags for the entire store. 
b. Images optimization
The second factor that can be easily adopted by yourself is image optimization. In that matter, I think about every image uploaded to the store. Please be sure that your images have: 
- clear and intuitive name (not img123542.jpg) 
- added Title attribute 
- added Alt attribute 
c. Headings
Please ensure that your store has a clear and hierarchical structure of heading in your store. H1 -> H2 -> H3. Don't jump between headings H5 -> H2 -> H6 -> H1.   
It's essential for search engines and in general, it's vital for Google Page Speed insights scores because it's a vital part of the semantic web.   
d. Proper SSL configuration 
Check if your SSL is installed correctly. Look at the Admin panel -> System -> System info. Check if Is HTTPS? field is True and the HTTP scheme has HTTPS as a value. If not, jump to Admin panel –> Configuration -> Stores and look at the SSL Enabled field. It should be marked as True. Ensure that your URLs are created with the following pattern:  
Secured URL address – https://yourstore.com,  
Store URL – http://yourstore.com  
HOST values – yourstore.com and www.yourstore.com. 
Optimize the support for unavailable products (temporarily or permanently) 
GrandNode gives you the possibility to allow access to unpublished products, products that are out of stock. It's important for SEO to keep that product pages online. They already have an achieved position, so it would be a shame to lose it if we limit access to it. Think about how you want to solve it. You can show the out of stock notification, allow back in stock subscriptions if it's a temporary product shortage.   
Blog/Content - cross-content, product, cross-selling 
Content marketing is currently one of the most powerful weapons in the fight against views and conversion. Without a thought-out blog, we can forget about reaping the full benefits of an online store. To facilitate your work on content marketing. We have prepared a number of functionalities to help you create a profitable blog.  
Expert tip: What the perfect article should contain?
SEO Title – Blog post -> SEO Tab -> Meta-title.  
It's the most important title for Google and subjectively it's the most important thing for the on-site optimization for me. 
Editorial, blog post title – It should be an H1 heading and it's the most important title for your reader.
Creation date – Configurable in the "Created date" field. Defines when an article has been created.   
Author - Necessary in the Google News section, but it also is the element of credibility.  
Introduction – A short introduction to your article. 
Bullet list - article content - long-tail keywords, one sentence about the content of the article in several points 
List of content - table of contents with anchors for each chapter. 
Body of the post 
Summary 
 
Remember about internal linking. New posts should link to old ones, old ones to new ones. Thanks to that, we improve internal linking and navigation on the website. 
 
Assign products to the blog post. On every blog post, you can attach a product that suits the article content.  
Ajax Filters
Filtering is one of the most important parts of improving the user experience in the store. It allows finding the product with ease. There is nothing worse than going through 15 pages looking for your size or color. 
 
Ajax Filters plugin gives you the possibility to enable real-time filtering without wasting time on loading the page. The filtering results are immediately visible in the same window. 
PDF Invoice & WKHTML
Generate your own template for invoices and packing slips in PDF. You can create your own invoice template in HTML which is published on order details in PDF. Personalize and customize your documents in store. Make your business professional with our PDF plugin. You have found if you are looking for an Invoice Generator plugin. It will be easier than ever to customize GrandNode Invoice. 
Expert tip: If you use the newest version of GrandNode, you will be able to customize your PDF templates out of the box with WKHTML. The whole process is very simple, just create a Views -> PDFTemplate directory in the main folder of your GrandNode and insert there 3 cshtml files that can be found in our Source code version package. The process of editing is straightforward, it's just an HTML file, so even beginners with basic knowledge of HTML will make stunning invoice templates.
One page checkout
1 in 10 people who abandon their cart, does it because the checkout process was too long. Reduce cart abandonment, by offering the entire purchase process on a single page, with GrandNode One Page Checkout. Many steps on different pages can be confusing. The checkout process should be as simple as possible, complicated steps are looked suspicious. 
When we can say that your store is successful? Well, we may be happy when our store is visited by a lot of new customers, but truly, our success depends on the number of purchases. It majorly depends on the condition and complexity of our checkout. The fact is that One page or Single page checkout is easier to understand and simpler. So obviously it will convert more than standard multi-step checkout.
Discount newsletter
Offer coupon codes to your customers after subscribing to your newsletter. Plugin displays popup with email box where the customer is able to sign to the newsletter. Discount Newsletter gives you the possibility to turn the visitors into subscribers and customers after offering discount coupon codes. Customers after subscribing to the newsletter get an email with an automatically generated coupon code.
Deadline is coming, and the project is not finished yet?
It's time for the specialist! Our team is waiting for your request. Check the premium support packages, choose the right number of hours and let us know how we can help you. Starting from a general consultancy, through tweaks in the premium themes, and ending with creating a complete, tailored project!
Jump into details and select the premium support package for you!